Attendees and Participants of the June 7-8, 2012, AATCC/SDC Sponsored:
Marketplace Advantage through Innovative Processes, Testing & Quality Control - Shanghai, China
We thank you for taking the time to invest in your career and industry by participating in this event!
Our representatives in attendance are eager to learn about and discuss your needs for our products and services. Please let us introduce:
Mr. Abid Hafeez, ('Abe'), Assistant Technical Director & Equipment Sales Manager
Mr. Jeremy Klaas, Assistant Operations and Accounts Manager
Together, they represent almost 20 years of active employment with the company, and they bring to you the benefits of four generations of textile professionals.
At Testfabrics, Inc., our job is to provide the important link between you, the testing laboratories, and the textile industry. Our test materials must be realistic, reproducible, economic and AVAILABLE! We strive constantly to meet expectations for these products and to insure consistent quality; we maintain our own quality assurance and customer service lab.
Our inventory of specialty test materials and prepared for print and dye (pfp/pfd) piece goods have played a crucial role in the textile industry for 8 decades. We supply:
Fabrics (from all the major fibers, woven and knit) for research & development and quality assurance testing, product development and marketing of textile dyes, processing chemicals and their applications. These fabrics have no sizings, dyes or finishes applied to them and are ready to accept, your dyes, pigments, finishes, coatings and more. Our piece goods and testing products help reduce the "variable of substrate to a tolerable minimum" in testing.
Colorfastness test materials: Testfabrics, Inc. is the originator and dominant producer of the industry standard 6-fiber composite multifiber fabrics for colorfastness testing, crockmeter test cloths and many other consumables. Production data from some of our stock fabrics are the basis for test materials found in ISO 105F 1-10, Adjacent Fabrics. These test materials are used in the worldwide testing of textiles and many other related materials.
Creative textile services in sourcing, cutting, slitting, sewing, small to production lot dyeing, manufacturing & converting, traditional and digital printing, custom lab applications of fabric treatments, lab dips for color control and problem solving
As we were taught by the original '"Testfabrics guys," the only thing constant in business is change"! With your help and support, we will continue to adapt to meet the developing needs of our consumers.
We are in the textile business on YOUR behalf. We are an active textile manufacturer that "plays in the textile game." We "play" for YOU and we "play to win"!
______________________
Thanks for visiting our booth.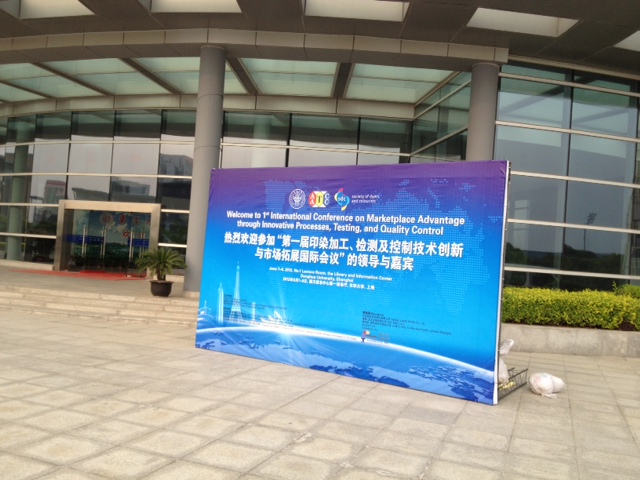 Outside Donghua University Hall (June 2012)